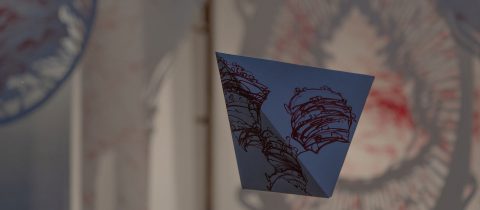 IGNIS, fire and paper
an installation in paper and drawings, conceived and created by the artists:
Maria Pina Bentivenga, Gianna Bentivenga, Umberto Giovannini and Matteo Capobianco.
Made entirely of Fabriano paper!
Under the patronage of
Fedrigoni Fabriano Foundation
For the appARTEngo festival
The title summarises two of the iconographic elements of St. Vincent to whom the church hosting this work is dedicated. The paper of the sacred text he holds in his hand: logos and wisdom. The flame on his head, a strong symbol and iconographic element, which in these Lucanian lands also evokes the less sacred and spiritual flame that towers over the oil extraction wells. The work is an installation that dialogues with the space and architecture of the baroque church to suggest an immersion in a suspended space. The equilateral pyramids create a presence in this space, starting from the triangle, the symbol of fire, and carrying letters that compose an apotropaic invocation against the earthquake, since Saint Vincent is also the protector of earthquake victims.
Photo and Video documentation: Jacopo NanniBartolucci